Description
Ciestra Resort theme for WordPress has its all to welcome the travellers with an outstanding website and better property rates. Whether you rent out a mountain villa or dozens of suites in a beachfront resort, this theme is perfectly suitable.
Fully dedicated to lodging business, Ciestra offers a perfect uncluttered design and a variety of on-demand content modules: a structured directory of properties, amenities & services gallery, clear contact and location info, Instagram gallery, guest reviews and more.
Ciestra Resort Theme Highlights: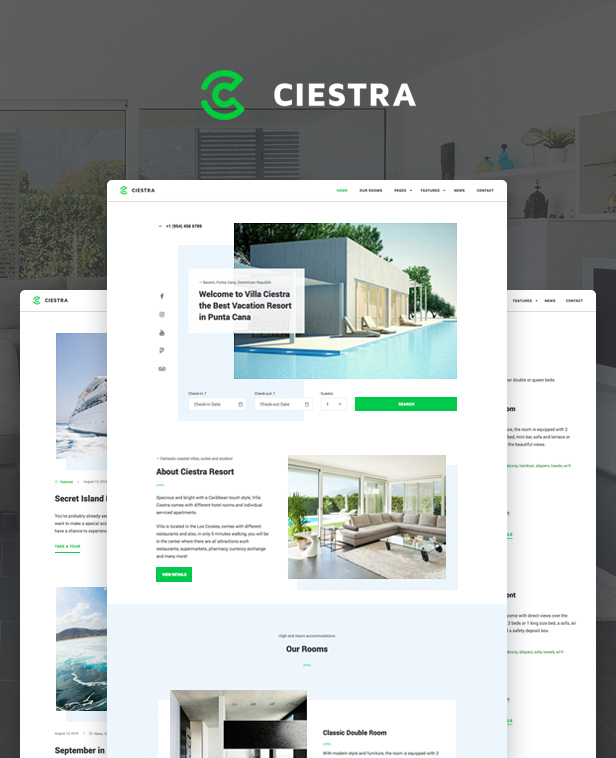 Ciestra: A journey to the heart of your hotel & resort brand
Responsive design, the all-around property booking system packaged for free, tailored for needs of modern travelers. Brought to you by MotoPress – the lodging business WordPress experts.
For Hotels, Resorts and Villas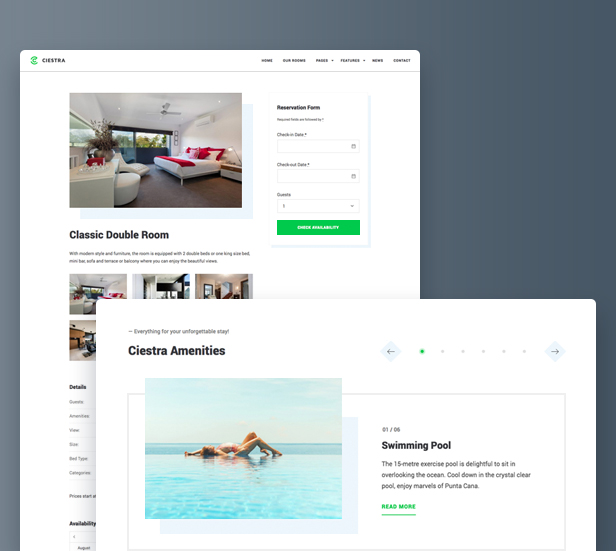 Featuring vibrant and elegant design, Ciestra is just perfect for beachfront hotels and resort accommodations. Add all your listings with amenities, bed types, sleeping arrangements, pricing and more categorized details. Rent out unlimited properties with no commission.
Accommodation Booking System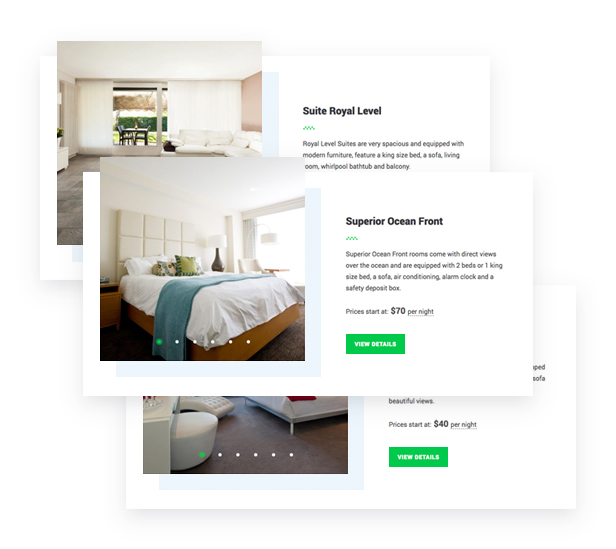 Ciestra resort theme is powered by our custom plugin – the popular WordPress reservation system. It's a built-in powerhouse for all your bookings, properties directory, seasonal prices, rates and the whole array of tools for lodging business. The premium room & property booking plugin is included for free!
Beautiful Galleries & Slideshows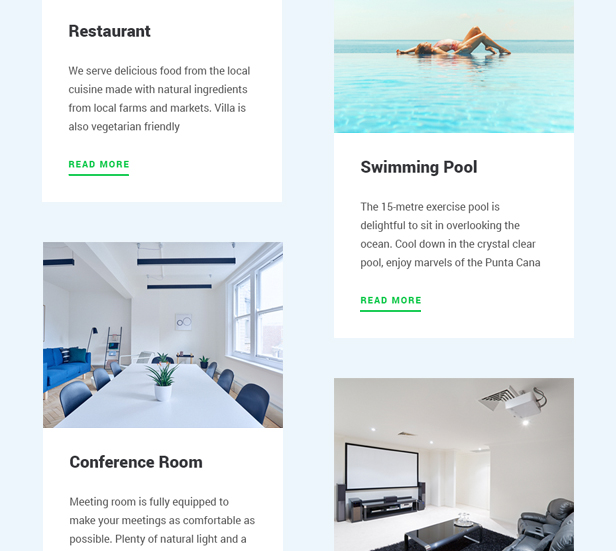 Keep your website up-to-date with what guests want: provide helpful info about nearby bars and attractions, services, landscapes, events and more.
The theme is equipped with unique, easily editable Elementor content modules for creating a perfect pre-vacation experience for your guests.
Sync Bookings to OTAs like Airbnb, Booking, Google Calendar etc.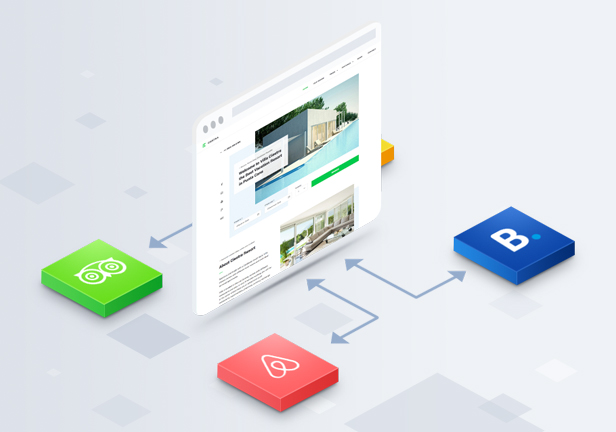 Don't miss on other popular listing websites! Rent out the properties elsewhere and sync bookings to your independent website built with Ciestra. No need for paid for channel managers, no commissions.
The reservation system is able to automatically sync your hotel bookings to external OTAs via iCal (make sure the medium platform supports iCal).
Prepayment or Pay at the Property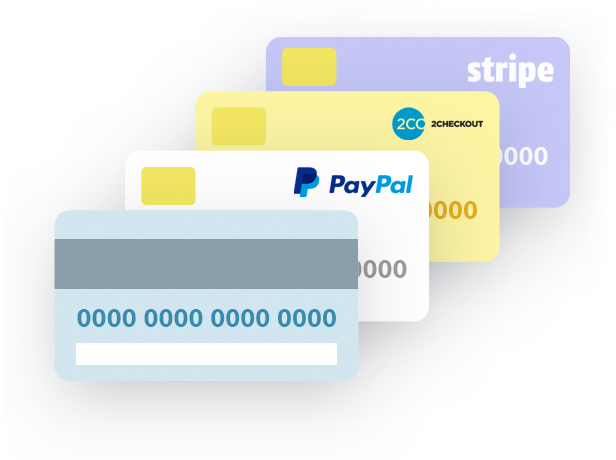 You are free to enable guests to pay online safely a full or deposit price (fixed / percentage) or charge them after arrival.
There are several out-of-the-box payment gateways you can enable: PayPal, 2Checkout, Stripe, Braintree and Beanstream/Bambora. A user-friendly Pro add-on is available for more gateways.
Weekly and Monthly Rates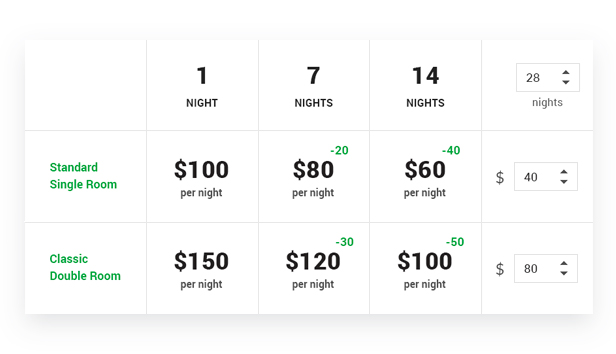 Need to set up a complex & dynamic pricing system? Set custom rates for peak seasons. Discount your hotel rooms or other resort accommodations automatically for a longer stay with weekly, monthly or other customizable rates. Designate price variables based on the room's capacity. Any rate and pricing is easily tunable.
Simple & Advanced Booking Rules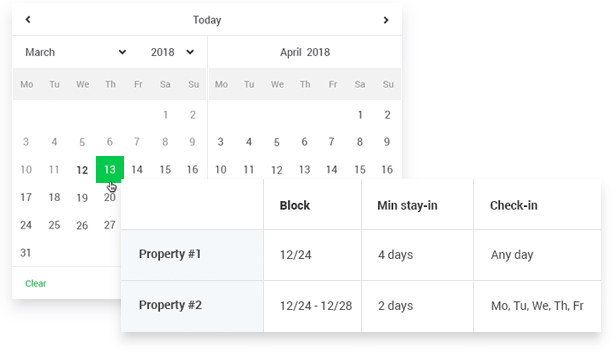 For each property and season you can set up min / max days to stay, available check-in and check-out dates, block chosen units for a certain period of time and more.
Availability calendars of all properties will display available and unavailable days in real time according to your rules.
Free & Paid Bookable Extras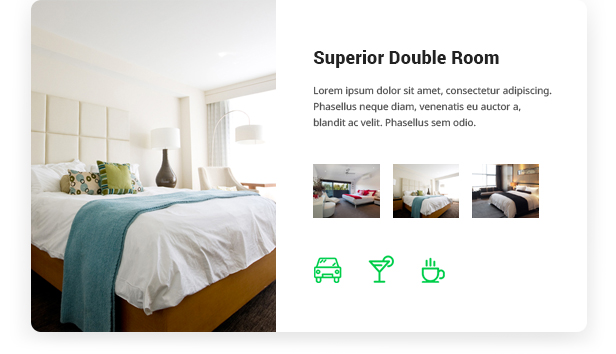 An easy way to entice guests to buy more extras along with the property bookings: offer extra packages and services and eventually find a bigger sum in every check!
Set the price per accommodation / guest; once or per night. You can also offer free services that must be booked in advance.
Created with Elementor Builder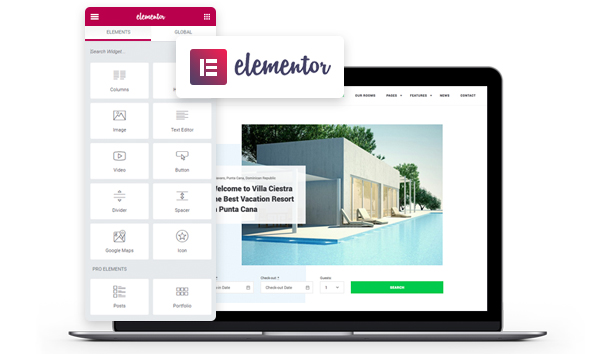 One of the main strengths of this Booking website template is 100% user-friendly customization: tune in every piece of Ciestra with Elementor visual page builder and other WordPress tools.
Intuitive drag-and-drop content manipulation, inline editing and more things non-tech users love.
Instagram Gallery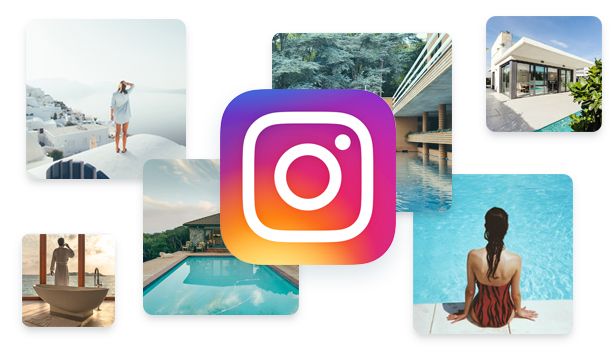 Lots of marketing studies show that people explicitly use Instagram to choose travel destinations or plan vacations.
With Ciestra, you can focus on image storytelling with a lightweight and beautiful Instagram gallery that automatically displays a feed of your latest Instagram uploads.
Import Sample Data in One Click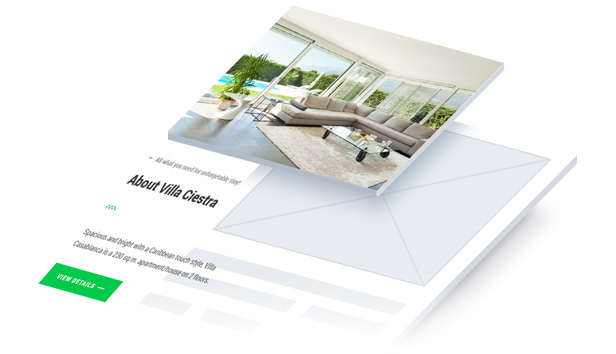 Unlike many other WordPress themes for hotels, Ciestra is absolutely easy on installation & getting started thanks to dummy data that you can import in one click.
The data importer is packed with the theme allowing you to replace sample info with your custom content with no hassle.
Our premium MotoPress Hotel Booking plugin, one of the most recognizable WordPress plugin for rentals, is included into the theme for free (save $49). It will help you use the all-around property management system and the booking system in one place.
You'll find it easy to designate different booking rules, add pricing rates depending on the number of people and the length of stay, accept instant online payments, keep track on all bookings and guests and more.
If you list your properties elsewhere, the built-in channel manager will help you connect your independent website to medium travel platforms, without any upfront or further commission. Thanks to iCal support, you can import reservations from your Airbnb, HomeAway or similar calendars and export them back to the OTAs that support iCal. The system will establish two-way auto sync to help you avoid overbooking.
Tune in the theme appearance with Elementor builder, edit the site via the WordPress Customizer, import sample data in once click – Ciestra Resort theme sets you up with user-friendly customization kits.
More about Ciestra Resort WordPress theme:
Best design practices for streamlined and automated property booking experience
Fast-loading and lightweight
Visual content editing with Elementor
Social media icons integration
Multiple menu locations
Testimonials slider
Unique Amenities&Services slider
Full-width / with sidebar page templates
Customizable navigation menus
SVG support
Contact form 7
HTML5 & CSS3 & latest WP standards
SEO Optimized markup
Tech support: ticket system, live chat and email
Fully documented.
More features of the built-in WordPress reservation system:
Premium MotoPress WordPress Booking plugin included for free
Real-time search availability form with editable fields
Availability calendars
Packages and services
Flexible booking rules
Manual and automatic booking confirmation
Automatic reservation notifications for guests and admin
Discount coupons
Taxes and fees management
iCal support to sync bookings across OTAs
Dashboard bookings calendar
Adding booking from the backend
Booking multiple units by one guest
Complete bookings statistic and payment history
Multiple currencies
Translated into 14 languages
Ability to add more region-specific payment gateways with WooCommerce add-on [not included into the theme]
Send payment reminder via the Payment Request Addon [not included into the theme]
Ciestra WordPress rental theme is an easy solution to manage one accommodation for rent or a single room in a hotel. For creating a single property, the search form should be changed to the booking form while setting up accommodation on the homepage.
That is exactly why Ciestra can be used equally well as a multipurpose hotel booking template, vacation rental and resort theme, or serve as a basis for apartment rental and real estate WordPress sites.
So even if your hospitality business alters its concept or scale, the flexibility of Ciestra WordPress rental theme will let it evolve and transform along with the changes.
Changelog

= 1.3.4, Sep 24 2021 =
* Added the Stratum – Elementor Widgets plugin to the theme package.
* Added the Hotel Booking & Elementor Integration plugin to the theme package.

= 1.3.3, Aug 10 2021 =
* Hotel Booking plugin updated to version 3.9.10.
    * New feature: added the option to display information about tax and fee charges additionally to the base property rate on the frontend.
    * New feature: the revenue chart (beta version).
    * Added a new payment status Canceled.
    * Added the ability to enable a two-step booking cancelation process that requires users to confirm their booking cancelation request on the external page.
    * Added the ability to disable booking rules when adding bookings on the backend manually.
    * Added a new color for the external bookings in the Bookings calendar.
    * Improved the user experience with the calendar datepicker on mobile devices.
    * Fixed an issue with displaying the number of bookings for secondary language versions in the WPML plugin.
    * Added the ability to sort accommodations by price in the accommodations listing.
* Minor style improvements.

= 1.3.2, Mar 18 2021 =
* Added the ability to turn on a sticky menu.
* Added the "back to top" button.
* Hotel Booking plugin updated to version 3.9.5.
    * Added the ability to set the Booking Buffer option.
    * Added the ability to set Advance Reservation: the minimum number of days allowed before booking and the maximum number of days available for future bookings.
    * Added the ability to resend the confirmation email for a booking.
    * Added the ability to create internal notes for a booking visible for site admins only.
    * Added the ability to edit existing bookings: you can now update check-in and check-out dates, rates, services, etc., as well as add, replace, or remove accommodations in the original bookings.
    * Added the ability to set the number of days prior to the check-in date applicable for applying deposits.
    * Stripe API updated to version 7.72.0.
    * Improved compatibility with the image lazy-loading feature.
    * Bug fix: fixed an issue that may cause errors in Sucuri and WP Mail SMTP plugins.
    * Bug fix: fixed an issue with payments via Stripe when amount of transaction was not calculated properly.
    * Bug fix: fixed an issue when an accommodation became unavailable for assignment to its accommodation type after renaming.
* Minor bugfixes and improvements.

= 1.3.1, Aug 31 2020 =
* Added theme support for Stratum plugin - collection of 20+ advanced Elementor widgets with extensive functionality.

= 1.3.0, Nov 19 2019 =
* Minor bugfixes and improvements.
* Hotel Booking plugin updated to version 3.7.1.
  * Improved blocks compatibility with the new versions of the Gutenberg editor.
  * Added customer email address to the Stripe payment details.
  * Fixed an issue where the price breakdown was not displayed in the new booking emails.
  * Fixed an issue at checkout when coupon discount was not applied to the total price at the bottom of the page.
  * Fixed a bug concerning impossibility to complete Stripe payment after applying the coupon code.
  * Fixed an issue where the type of the coupon code was changed after its use.
  * Improved the "Booking Confirmed" page with regard to displaying information on client's booking and payment in case the booking is paid online. Follow the prompts to update the content of the "Booking Confirmed" page automatically or apply the changes manually.
  * Added the new email tag, which allows guests to visit their booking details page directly from the email. Important: you need to update your email templates to start using this functionality.
  * New actions and filters were added for developers.
  * Fixed the issue at checkout when a variable price was not applied if capacity is disabled in plugin settings.
  * Added Direct Bank Transfer as a new payment gateway.
  * Added the ability to delete ical synchronization logs automatically.
  * Added new intervals for importing bookings through the ical "Quarter an Hour" and "Half an Hour".
  * The user information is no longer required while creating a booking in the admin panel. You can enable it again in the settings.
  * Added new tags for email templates: Price Breakdown, Country, State, City, Postcode, Address, Full Guest Name.
  * Added the ability to select the accommodation type while duplicating rates.
  * Improvement: now if the accommodation type size is not set, the field will not be displayed on the website.
  * Implemented bookings synchronization with Expedia travel booking website.
  * Updated PayPal and Stripe payment integrations to comply with PSD2 and the SCA requirements.
  * Added the ability to receive payments through Bancontact, iDEAL, Giropay, SEPA Direct Debit and SOFORT payment gateways via the updated Stripe API.

= 1.2.3, Jul 10 2019 =
* Hotel Booking plugin updated to version 3.5.1.
  * Major improvements on booking synchronization with online channels via iCal interface.
  * Added the ability to export bookings data in the CSV format.

= 1.2.2, Apr 15 2019 =
* Hotel Booking plugin updated to version 3.3.0.
  * Improved compatibility with WPML plugin.
  * Fixed the bug appeared while calculating the subtotal amount in Price Breakdown when a discount code is applied.
  * Added Hotel Booking Extensions page. Developers may opt-out of displaying this page via "mphb_show_extension_links" filter.
  * Booking Calendar improvements:
    * Tooltip extended with the customer data: full name, email, phone, guests number, imported bookings info.
    * Added a popup option to display the detailed booking information.
  * Bookings table improvements:
    * Added a column with booked accommodations.
    * Added the ability to filter bookings by accommodation type.
    * Added the ability to search bookings by First Name, Last Name, Check-in Date, Check-out Date, Phone, Price, etc.
  * Added a Service option that enables to specify the number of times guest would like to order this service.

= 1.2.0, Feb 12 2019 =
* Hotel Booking plugin updated to version 3.1.0.
  * Added new blocks to Gutenberg.
  * Added option to switch to the new block editor for Accommodation Types and Services in plugin settings.
* Added option to set the Price Breakdown to be unfolded by default.
* Improved design of Accommodation titles in Price Breakdown for better user experience.
* Added styles for Hotel Booking Reviews addon.
* Added the ability to change copyright text in footer.
* Added the ability to change primary theme colors.

= 1.1.0, Jan 14 2019 =
* Added theme support for WordPress 5.0 (Gutenberg).
* Hotel Booking plugin updated to version 3.0.3.

= 1.0.0, Sep 18 2018 =
* Hotel Booking plugin updated to version 3.0.0:
  * Introducing attributes. By using the attributes you are able to define extra accommodation data such as location and type and use these attributes in the search availability form as advanced search filters.
  * Improved the way to display the booking rules in the availability calendar.
  * Added the new payment method to pay on arrival.
  * Added the ability to create fixed amount coupon codes.
  * Added the availability to send multiple emails to notify the administrator and other staff about new booking.
  * Fixed the bug appeared in the Braintree payment method if a few plugins for making payment are set up.
  * Added the ability to set the default country on the checkout page.

= 0.1.0, Aug 20 2018 =
* Initial release.